Biography
J. Wilmer Hershey was born in 1895 near Lancaster, PA, the son of an advertising salesman with roots in the Mennonite community. In 1916-1918, he attended the Carnegie Institute of Technology architecture program. Hershey also served as an engineer in the U. S. Army in the Enlisted Reserve Corps for seven months during World War I. In 1918, Hershey did post-graduate work at the free Polytechnic Institute (present-day Case Western Reserve University) in Cleveland, OH. During this period he received awards in national Beaux Arts Institute of Design competitions.
After a year employed by the City of Cleveland as supervising designer of public buildings, Hershey returned to Lancaster to establish his own firm in the tony Woolworth Building. He also worked part-time with renowned Lancaster architect Henry Y. Shaub (1887-1970), with whom he completed the remodeling of the Pennsylvania Hotel in Lancaster.
In 1923, Hershey and his wife, Sarah, relocated to California. In Pasadena, he worked for 18 months as a designer in the office of master architect, Wallace Neff (1895-1982)— a mentorship that changed his life. Under Neff, his talent for fanciful period-revival designs flourished.
In 1925, after a disastrous earthquake, architect Reginald Johnson (1882-1952) recommended Hershey to head the Santa Barbara Community Drafting Room—the progressive department established by the city to help rebuild the town in the Spanish Colonial Revival-style. In this capacity, Hershey was responsible for the redesign of State Street, the Santa Barbara Courthouse, and countless other buildings imbuing the seaside city the charm it now enjoys.
Back on his own in Pasadena, Hershey's success in Santa Barbara helped fuel a stream of fanciful residential projects and caught the eye of developer, Ole Hanson, who engaged Hershey to design his new Spanish Colonial Revival-style seaside town, San Clemente. Hershey's work was published nationally in architectural trade magazines.
In late 1925, Hershey became very ill. He recruited architects Richard Urmy Seares and Charles A. Hill to help him fulfill his obligations to Hanson and other clients. Tragically, however, Hershey died from bacterial endocarditis in August of 1926 at the age of 31. Had Hershey survived, his talent as a designer would have surely made him one of the most revered Period Revival-style architects in Southern California.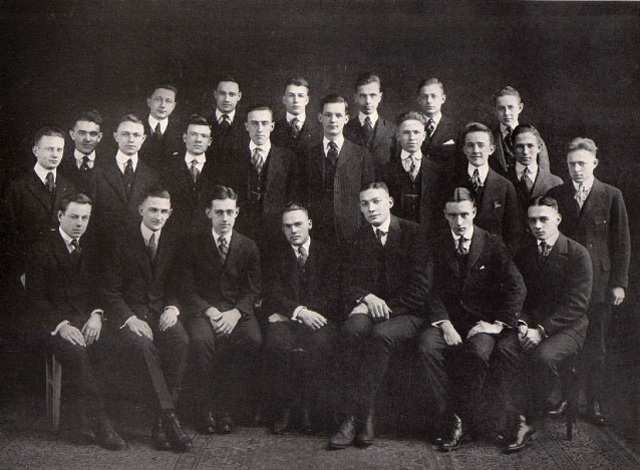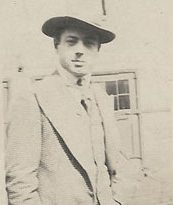 Top

– Sigma Nus at Carnegie Mellon [1918 Thistle p.244]

Bottom Right

– Country Chapel Award Winner

Bottom Left

– Wilmer family portrait